The build up to the festive season should be one of excitement and pleasure, but for so many it is one of self-loathing, shame, and bitter disappointment. Yes, of course everyone else will say it doesn't matter what size you are, what you wear, or what you look like, but they just don't get it. It really does matter, and it hurts knowing that another year has passed and that weight loss failure has again prevailed!
No one wakes up one day thrilled at being the fat friend, the one avoiding sparkly clothes, the glittery high heels, the fitted shirts and Christmas jumpers because they just draw too much attention or are uncomfortable!
No one wants to fail each and every diet known to man because relationships with food and the amounts consumed are basically unhealthy. Not one of us chooses to be overweight, cuddly, chunky of just plain of obese – FACT!
Last year, and no doubt the year before, and probably the year before that too, I wonder just how many of you too promised that the real diet and exercise routine would start January 1st with no excuses – WOW, that's a lot of hands. Now, how many of you actually achieved it? Ah - Not so many hands!
Now, how many of you are sticking with the same tame festive outfits again this year, no doubt complete with black trousers, jeans, or leggings, just to be on the fade into the background safe side? A nice necklace should be just enough to look suitably festive! There are those hands in the air again.
And finally, how many of you have opted for just the two course meal despite craving the delicious pudding and that cheese selection? After all, who wants to look like a greedy guts, living proof of why we are overweight. Because we all know what they think when they look at us from across the festive table, all plus sized and conspicuous trying not to reach back for more roasties or extra cream!
Anyone who has ever suffered with their weight will understand these festive issues. Its not just as simple as 'not eating that' or 'avoiding this'. Its not always a physical issue or getting our tubby bods down to the gym. For many, eating disorders and unhealthy patterns with food are psychological, debilitating and honestly heart-breaking. Staring at the mirror hating what you see, avoiding group photos because you know you will out-size everyone. Crying real tears because you just want to be normal. Promising yourself for the umpteenth year that next year you will be smaller!
What if for 2023 you could actually have your Weighty Christmas Wish granted?
What if by next Christmas you could be a whole new you! A whole lot smaller you! How does that sound? 'Expensive?' Well, yes and no actually. Of course, nothing in life is free, or painless, but with a little budgeting and rethinking your spending habits if you do not have the funds available in one go, you could be on your way to booking a suitable weight loss procedure right here in the UK that will have you sparkling like the diamond that you know you are inside by December next!
If you tot up the takeaways, the gym memberships and all the other 'make me happy' costs and spending, you'd be very surprised at how much you consume over the course of a year, and of course there are credit options available too to spread the cost over years to come.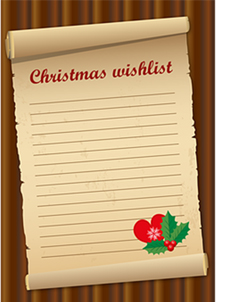 Want to lose weight?
Want to keep it off?
Want to stop your bad relationship with food?
Want to be a whole new you?
Want exceptional advice, treatment and aftercare?
Want to join thousands of lighter patent's?
We can help! The real pluses to any NOSC surgery during 2023 will outweigh (do pardon the pun) any fears you may have for the actual procedure itself or the following months of learning how to be a new you. The friendly, supportive, and professional team at NOSC are specialists in weight loss procedures throughout the UK. They are here to make you a better version of yourself and are with you every step of the way!
Weight loss surgery is one of the fastest growing areas of private medicine in the UK. It is no wonder that prospective patients become confused about which procedure to opt for and where to go for advice. And NOSC brings together seventeen of the finest hospitals and seventeen of the most skilled and experienced consultant surgeons and consultant gastroenterologists in the country. Each surgeon and each hospital has to meet the criteria set out in our own minimum standards document. This ensures you that you will receive the highest level of care, where safety is always the first consideration. Want to know more or have a chat about your options? Why not give us a call on 0345 618 7276. We're ready and waiting to help you become a whole new you! National Obesity Surgery Centre… The Patient's Choice!