Yes, yes, it's cold now and you can finally spend the next few months hiding away in an oversized jumper and joggers! You can worry about losing weight to finally be 'beach ready' after you've eaten your way through Christmas, yes? NO!
There is no time like the present to finally get on top of your weight issue!
Relatively short recovery times for surgical procedures (and none for non-surgical procedures) at one of our UK hospitals or clinics mean that if you act now and get booked in for November or December you will be back up and about in next to no time, and well on your way to being very 2024 ready. As well as celebrating a somewhat smaller Christmas, which you will still be able to enjoy to the absolute fullest, you'll just be fuller faster and with far less on your plate! You'll still have all the turkey and trimmings, the clinking of glasses and even the cheeky choccy treats, you'll simply just not consume as much of it – Post-surgery is not for the gluttonous!
FACT: Did you know that if you asked 99% of patents what their biggest regret was about having surgery with us, the answer is usually 'NOT DOING IT SOONER' or 'WHAT WAS I SO WORRIED ABOUT'.
Plus, with non-surgical procedures (like the gastric balloon) from £142.85 per month and surgical procedures (like the gastric sleeve) from £155.96 per month (that's the equivalent of one big takeaway a week by the way) it's not as expensive to start your weight loss journey as you may first have thought!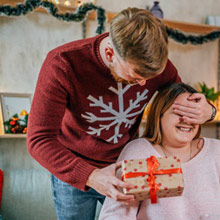 You could even treat yourself or the one you love for Christmas? – What a fabulous gift!
Even if you want to hold off until January, get in touch for a chat now and get all the facts about how our surgical and non-surgical procedures really do work for real losers all over the country month in, month out!
Here at the NOSC we have all of the resources right here in the United Kingdom to ensure that your procedures are a seamless success, and that you get the care and support you need, for as long as you need it. From experts in ensuring you choose the right procedure, top surgeons, dietitians, to fitness coaches and the losers support group.
Our expert team have provided the right guidance for thousands of people up and down the whole of the United Kingdom, and you too can be booked in for the perfect surgical, or non-surgical weight loss procedure within a matter of weeks, one that really will ensure that you lose that weight and keep it off for good!
Want to know more or have a chat about your options?
Why not give us a call on 0345 618 7276?
 We're ready and waiting to help you become a whole new smaller you!
Weight loss surgery is one of the fastest growing areas of private medicine in the United Kingdom.  So, it really is no wonder that prospective patients become confused about which procedure to opt for and where to go for advice when they decide on surgery in the UK.
Here at the NOSC we bring together more than seventeen of the finest hospitals and the most skilled and experienced consultant surgeons and consultant gastroenterologists in the country for you!
Each surgeon and each hospital has to meet the criteria set out in our own minimum standards document. This ensures you that you will receive the highest level of care, where safety and your wellbeing is always our first consideration.
The National Obesity Surgery Centre… The Patient's Choice!